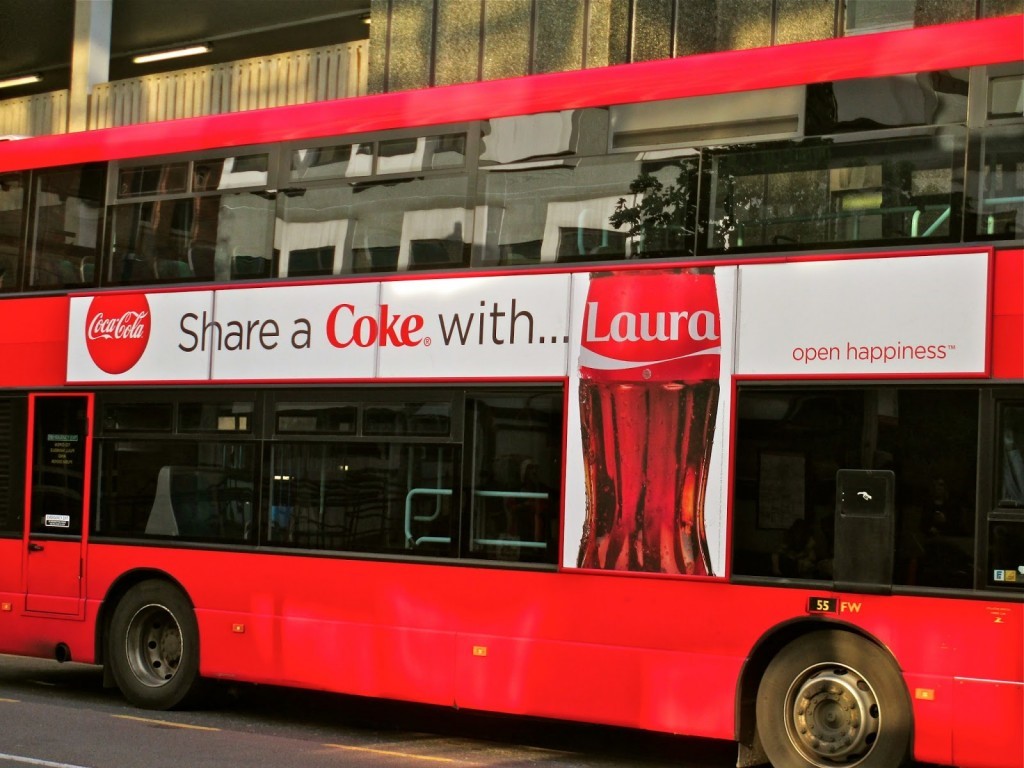 Although the company Coca Cola needs no introduction, just doing the formalities;
Coca-Cola is a carbonated found soft drink. It is manufactured by The Coca-Cola Company which is located in Atlanta, Georgia, USA. It is often known in its abbreviated form Coke. It was invented as a patent medicine by John Pemberton. In the 20th century, Coca-Cola was acquired by Asa Griggs Candler, who through clever marketing made Coke the most dominating soft drink in the beverage industry. The name Coca-Cola is derived from its two ingredients, kola nuts, which consists of caffeine, and coca leaves.
Till today, the formula of Coca-Cola remains a secret, although there have been many recipes and experiments that have been published. Let's dig deep into the details of Coca Cola 'Share A Coke' Campaign.
Background
In the year 2012, Coca-Cola had teamed with Oligvy and Mather Australia who were advertising agency partner, to launch their ambitious digital media campaign named 'Share a Coke'. The campaign was first launched in Australia in 2012 and the later in Britain in 2013.
The campaign had a variety of Marketing contained ATL marketing strategies like TV Commercials, BTL strategies like billboards as well as an element of experimental marketing where customers could custom make their own bottles.
The main success was attributed through the digital platform, wherein each bottle mentioned the hashtag #shareacoke, in order to pursue users to share bottles with their names on social media.
Objectives of Coca Cola 'Share A Coke' Campaign
Coca-Cola had two objectives they wanted to achieve out of the 'Share a Coke' campaign.
(i) The first and primary objective was to increase their sales as it was the summer period in Australia.
(ii) The second objective was engaging with its customers by talking to them.
They wanted this campaign to create a platform where people won't just consume the product but moreover love the brand.
Strategies of Coca Cola 'Share A Coke' Campaign
1. Multichannel Rollout 
Coke rolled out the 'Share a Coke' campaign through various channels like newspapers and TV commercials. But it was social media channels, particularly Facebook that the campaign really started picking up steam. Through Facebook, users participated in a large scale.
Moreover, the campaign had achieved mass sharing, through which customers could connect with each other. Basically, consumers had to SMS their friend's name which would be displayed live on the iconic Coca-Cola sign located at Sydney's King's Cross.
The user then would receive an MMS via which they could share their chosen friend's name lit up in lights through Facebook or send him/her mail.
Encouraging participation creation of Online media campaign:
A huge amount of social media content was created by encouraging many consumers to participate. This was established by specifically targeting those consumers who very active on social media who engage with their friends by sharing photo and posts on Facebook, Twitter etc.
What's more, is that Coca-Cola made these consumers as creative directors of the brand inducing them to promote the brand.
This lead to many users engaging themselves on various social media platforms like Facebook, Twitter, and Instagram. Connecting with the consumers at a personal level.
Connecting with the consumers at a personal level
Coca-Cola as a brand was emotionally connecting with its customer through personalization.
Coca-Cola felt the new way to engage with its customers was through personalization and, therefore, designed the campaign in such a way that it encourages personalization in a prospective way.
Consumers like to self-express themselves creatively through storytelling and staying in touch with its friends and as a result, the campaign leveraged on this kind of consumer behaviour. Moreover, Coca-Cola wanted to engage with its customers and at the same time promote its own brand name.
For instance, when a consumer shares a name-branded Coke bottle with his father, he feels as he is honouring his father rather than promoting the Coca-Cola brand itself. Moreover, by taking and sharing photos with the #shareacoke hashtag on social media, it drives more personal online media content which leads to many shares across.
Share a coke with a family campaign
Powerful Calls to Action in the campaign
Coca-Cola created a powerful Call to Action in the campaign. The campaign name 'Share a Coke' was a Call to Action. It made people purchase Coca-Cola and share their memorable moments with their friends and family on social media.
Coca-Cola had ensured that the campaign slogan should be something that is very catchy and easy to recall such that the call to action should immediately come to mind when the customer purchases the brand.

Results of Coca Cola 'Share A Coke' Campaign
Enlisted below are the findings from Share a Coke campaign analysis:
(i) The ratio to young to adult consumption of Coca-Cola was up by 7%.
(ii) The campaign earned around 18.3 Lakhs media impressions.
(iii) The Facebook website saw traffic increased by 870% while the Facebook page, on the other hand, grew by 39% in terms of fans.
(iv) Around 76,000 virtual Coke cans were shared online.
(v) A total of 378,000 custom Coke cans were printed across the country.
(vi) The campaign created a positive image of Coca-Cola as a brand
Reasons for the success of "Share a Coke" Campaign
The Brand personally connected with Consumers
Consumers are attracted to goods and services that give them a personal experience. They consider personalization as a crucial aspect of their daily routine. By offering the much needed personal experience, 'Share a Coke' campaign initiated the consumers to promote the brand while taking care of their personal aspects. For example, when a consumer shares a name-branded coke bottle their friends, they feel that they are creating better memories rather than promoting the Coke brand itself.
'Share a Coke' had a powerful CTA
Coca Cola's 'Share a Coke' Campaign has a great CTA which is 'Share a Coke' itself. The slogan is powerful enough to convince the product and share their Coca-Cola stories online. Another feature of the slogan is that it is easy to remember and catchy which acts as a constant reminder to the consumers. The slogan 'Share a Coke' not only initiates the consumers to buy a coke but also convinces them to share it.
The Campaign is regularly updated
A marketing campaign is successful if it is constantly updated to maintain the interest of the consumers. 'Share a Coke' campaign has successfully done that. In the year 2015, they opened an ecommerce shop where the consumers could order bottles with their names. Also, the lyrics of the songs were added so as to increase the sale. In 2017, the company started shareacoke.com where the consumers could hear a short song with their name in it. Later in 2018, the company added name labels that could be removed and stuck anywhere else like clothes, phones, books etc.
Learnings from Coca Cola 'Share A Coke' Campaign
Share a coke with Matt
Coca Cola 'Share A Coke' Campaign was one of the best campaigns Coca-Cola has ever designed. It just shows how a brand like Coke which is such a reputed brand can engage with its consumers by allowing them to change the logo with their name.
Share a Coke Campaign success taught us that personalization can only be highly engaging and effective if it can be shared with a wide audience. It just doesn't motivate the customer to share but also provides them with the platform to explore their creative side through customization.
Moreover, this campaign taught us that social media can play a huge role to make an impact and can be utilized in a customized manner to suit the needs of the consumers as well as the company itself. The untold secret of this campaign was that Coke connected it with its consumers at a personal level.

Campaign effectiveness and outcomes
The Share a Coke campaign was subsequently rolled out in over 80 countries.  
In Australia, the advertising agency, Ogilvy have estimated that the campaign increased Coke's share of the category by 4% and increased consumption by young adults by 7%. 
The campaign received multiple awards at the Creative Effectiveness Lion Awards at Cannes. 
In the United States, where the campaign is credited with increasing sales by more than 2% and according to a piece by The Atlantic writer Kalle Oskari Mattila, said to have reversed more than 10 years of decline in Coke consumption, the company and its agency has sought ways to extend the campaign while maintaining its relevance. 
In 2015, the company extended the campaign by increasing the number of names to 1,000. 
Nicknames such as "bro", "better half" and "sidekick" were also added to the inventory of names.
In 2016, the company replaced people's names with lyrics from 70 popular songs including Lean on Me and We are the Champions.
 In 2017, the campaign returned to the US with a new variant; holiday destinations. Bottles of coke are labelled with favourite summer holiday spots such as Hawaii, Ibiza, Barbados etc. 
Additionally, Coca-Cola collaborated with McCann and Score a Score to create over 1000 unique songs based on names found on bottles of Coke.
Financial analysts and advertising experts have used the success of the 'Share-a-Coke' campaign to remind marketers and advertisers of the need to personalise the communications message.


Source: Compiled from various sources.